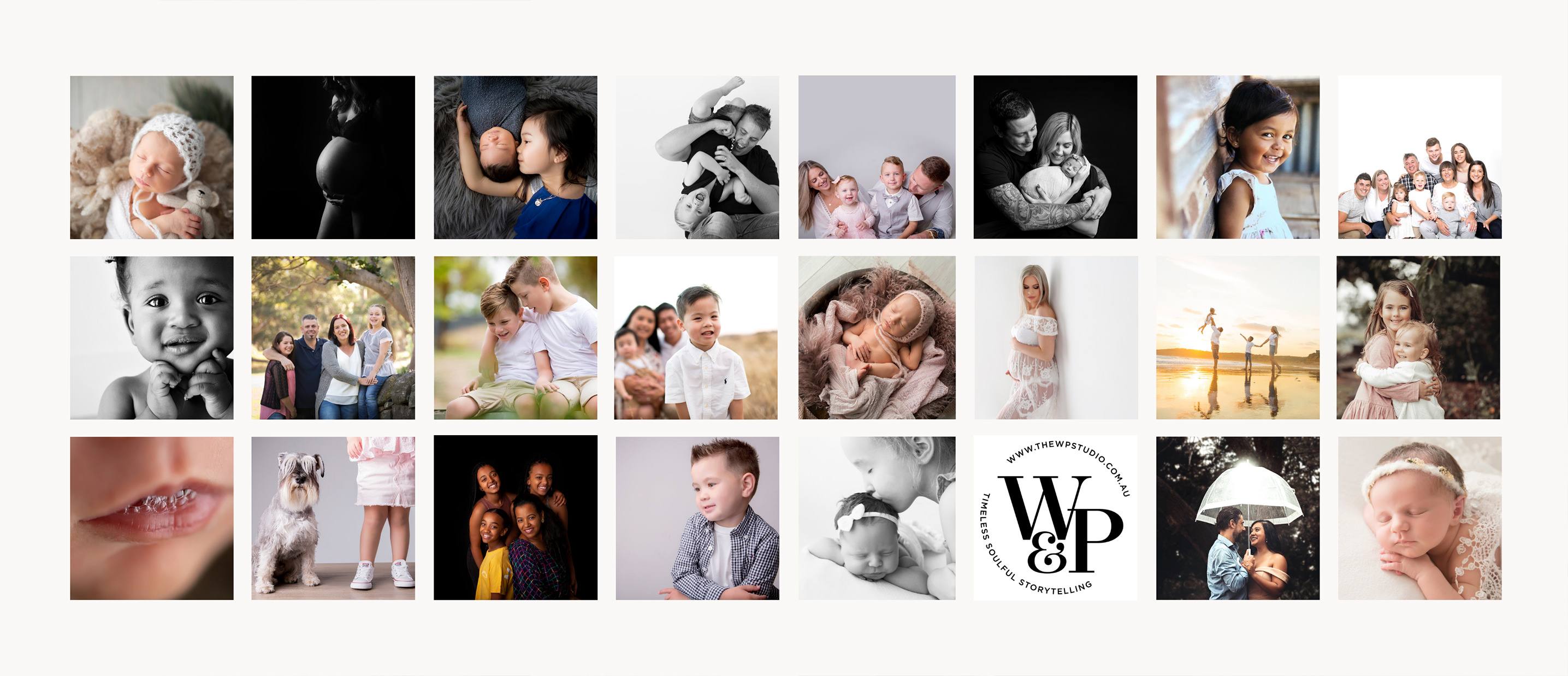 WHAT ARE YOU INTERESTED IN?
STEP 1
Book in your studio/gallery tour
STEP 2
Book your portrait session
STEP 3
Your Portrait Experience
STEP 4
Your Purchasing Appointment
Create the Perfect Milestone with Melbourne's Premier Portrait Photographer
Life is full of exciting, joyous milestones. Whether it be welcoming a new addition to the family, the celebration of a loving couple's marriage, or bringing home an adorable new pup – our journeys feature many significant moments and memories.
The WP Studio team of highly skilled portrait photographers believe that these moments deserve to be cherished in a stunning, timeless showcase. Featuring memorable albums to complement pure exaltation, we provide Melbourne families with state-of-the-art, refined portrait photography. Be it as a beautiful memento of the occasion for years to come, or a way to honour your past – our services are designed to suit you.
We specialise in the design and production of wedding, newborn, maternity, family and pet album creation. Our talented creatives will work alongside you to ensure that you are truly happy with the end-result, before going to work on creating something wonderful. That's our commitment to you.
Treasuring the Creation of Elegant, Timeless Portrait Photography
Discovery and Planning your Experience
Our team will assist with ideas on what to bring, and colours to wear to ensure the artwork we will create will compliment your decor and bring life to your home.
It is important for our design specialists to understand your personal taste and lifestyle. This detail will be reflected in your artwork and will become heirlooms for future generations to enjoy.
Your professional portrait photographer will capture your shots with all of this in mind.
BOOK A FREE TOUR OF OUR STUDIO & GALLERY
Come and meet us, see our products and discuss if we are the perfect photography studio for you
BOOK A TOUR
Our Presentation Options
Each product is unique and custom designed to suit each clients needs.
Once your photography experience is booked we'll organise a time to speak with you about your experience, finding out if and who else you would be sharing your portrait experience with.
The pre-shoot consultation will help you find the select the perfect tones, items and style to suit your decor. We will also discuss your ideas around where you'd love to display your artwork to be transported back to these moments forever.
Every one of our portrait experiences are uniquely planned to fit your personality, your interest and the people you love. Its simple – Its your story, we just capture it beautifully.
Our very popular archival canvas allows you to create a work-of-art. The texture of canvas is great for both vibrant, intense colour along with natural earthy tones. We offer a 15 year guarantee against accidental damage on this range. Canvas wall-art begins at $695
Start Planning Your Experience
We Love Hearing from New Families
The WP Studio revels in the opportunity to chat with families regarding their album design and portrait photography ideas. Our ethos revolves around hearing your big ideas and turning them into something truly special. No matter your envision, we encourage you to get in touch with us to see how we can support you and your needs.
Simply give us a call on 1300 880 220 or fill out an enquiry form via our contact page. We will get back to you as soon as possible and with all the information you require to get started.
Thankyou so much Brenton, Kristy and Mark.
You guys were amazing with Kyson and made the whole experience so easy and layed back.
We cannot wait to come back again
Have A Question Before You Book?
Simply fill out your details and our customer care team will be in touch within 1 business day.